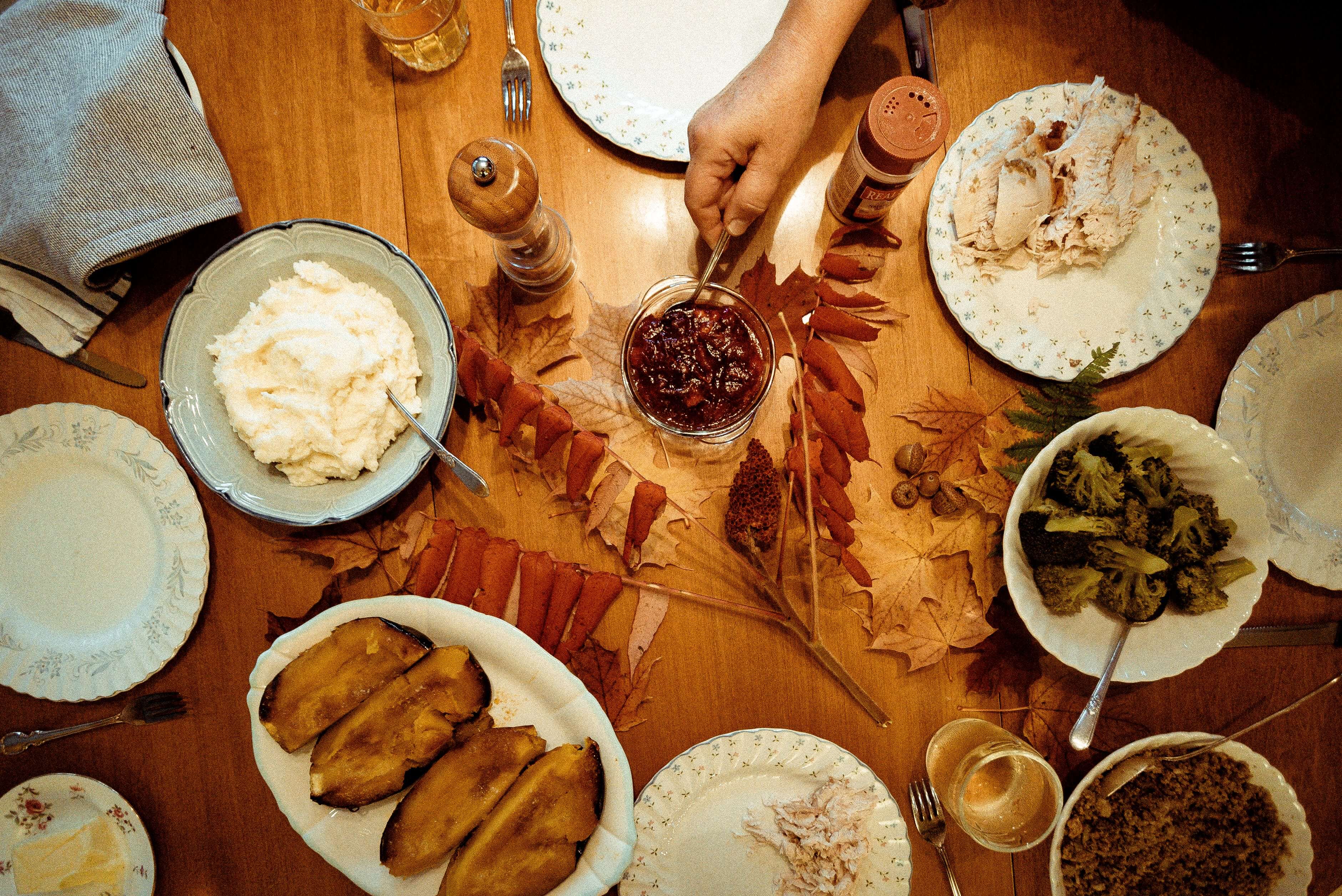 The time of year is coming where everyone is getting prepared to create their delicious Thanksgiving feasts! While some people prefer to take control of every dish that is set onto their tables, others prefer to let others take the added responsibility away.
We know that Thanksgiving can be a stressful time, so let us take some of that stress away by providing some great options for food you can buy for the big day! Here are some of our favorites, whether you plan to dine in or carry out.
Full Courses and Sides
While it may be fun to try your hand at preparing grand feasts, it can be nice to have someone else do the prep work. For that reason, we have here a selection of places that sell some classic Thanksgiving sides and courses for you to get your hands on!
First off we have Sally O's over in Highlandtown. The pre-order gives you the option to pick from several different side dishes, including Braised Collard Greens, Mashed Yukon Gold Potatoes, and Oyster Stuffing. You have until the 20th to place your pre-orders, so check this out while you can!
Mama's on the Half Shell in Canton is another great option for ordering dishes ahead. They have a wide selection of sides and main courses alike, including their Honey Glazed Carrots and Sauteed Green Beans, as well as their Honey Glazed Ham and Roasted Turkey Breast.
Another great place to get your Thanksgiving feast is over at Atwater's. With various locations around Baltimore, this establishment has some classic side dishes to pre-order, and also the option to pre-order cheeses, soups, and bread! Some of their sides include Sausage and Cornbread Stuffing and their Maple Glazed Sweet Potatoes & Cranberries.
Little Havana in Federal Hill has the option to pre-order packages of food for Thanksgiving. Their packages are meant for groups of people as little as two, or as big as twenty-six! With the option to add different sides, each package comes with Turkey, Mashed Potatoes, Brioche Dinner Rolls, Herb Stuffing, Green Beans, Mac & Cheese, Turkey Gravy, and Cranberry Sauce.
Kneads in Harbor East has their own selection of packages to buy for Thanksgiving! When ordering, you have the option to choose Turkey or a Smoked Ham, as well as a selection of sides, such as Brussels sprouts, Mashed Potatoes with Garlic, and French Green Beans.
Corner Pantry in Roland Park allows you to order ahead via their Google Form, where you can select whatever sides and courses you want for Thanksgiving. Select as much or as little as you'd like, such as Cornbread Stuffing and their Roasted Butternut Squash Soup. While they do have food options, you can also buy flower arrangements and cocktail mixes.
Sobo Cafe in Federal Hill is another great spot to get yourself some sides or mains for Thanksgiving. With the additional option to dine in, you can order ahead for some of their delicious sides, such as creamed spinach, cranberry-orange sauce, and sweet potato wedges!
Desserts
The best food you can buy for Thanksgiving day is of course the desserts! Baltimore has a lot of options for you to choose from, including Cafe Dear Leon in Canton. Cafe Dear Leon has three dessert options to choose from, a Hazelnut Apple Tart, a Pecan Tart, and a Pumpkin Cheesecake. Any of these options would spice up your Thanksgiving feast and bring a new added flavor to the end of your day.
Sacre Sucre is another great place to pre-order some delicious desserts. Over in Fells Point, Sacre Sucre has four dessert options to choose from, including Pumpkin Flan and a half-dozen box of croissants. You can't go wrong with flaky and buttery croissants after eating a helping of cranberry sauce!
Head over to the Charmery in Hampden for a selection of holiday pies! Pair pies such as Caramel Pumpkin and their Brown Sugar Molasses Pecan Pie with a pint of their classic ice cream. It's the perfect combination to finish off a giant Thanksgiving dinner.
Dangerously Delicious Pies in Canton is another great place to visit for some delectable pies. They have flavors such as Sweet Potato, Salted Caramel/Toffee Crunch, and Mobtown Brown. If you're also looking for pies that aren't just good for desserts, they have a great selection of quiches and savory pies that would be a great addition to your feast!
Dining In
While traveling somewhere far, or hosting people in your home can be fun, sometimes you just don't want to deal with the hassle at all. Luckily, there are some dine-in options offering Thanksgiving dinner.
Four Seasons is going to be serving a gourmet Thanksgiving brunch buffet to anyone who visits on Thanksgiving day! With a ticket purchase, you can get access to dishes such as Chef's Cheese and Charcuterie display, Cider Brined Roasted Turkey, and more!
Also an option for dining in on Thanksgiving is the Rusty Scupper. Their buffet requires reservations in order to attend, so be sure to grab tickets to try some of their Virginia Baked Ham, Candied Sweet Yams, and Bread Pudding.
Happy Thanksgiving
We hope that you've found an option that will help keep your Thanksgiving meal prep as low-stress as possible. From the Promenade family to yours, we hope you have a very happy Thanksgiving!